Selecting the Ideal Carpet Cleaning Products for Your Needs
Are you getting your hands on cleaning your carpets at home? Not to mention, choosing the right carpet cleaning company and products is crucial; otherwise, you will end up ruining your carpets. It is not always necessary that the carpet cleaner your neighbours or friends use would work for you as well. Also, the market is flooded with different choices for carpet cleaning products, making it more difficult to pick the right one. When choosing a carpet cleaning product, there are a few aspects that you must consider. Is it pet-friendly? Does it meet the safety standards? Can it remove stubborn stains without degrading the fabric quality? There are tons of other things that you should check thoroughly. To know them all, read till the end!
Tips and Tricks For Choosing The Right Carpet Cleaning Products
Don't you want your carpets to stay pretty, intact, spotless, and fresh-looking forever? The only way to keep your carpets new everlastingly is by choosing ideal cleaning products, for which this guide can help!
Check Your Carpet's Fabric Type 
Different carpet fabrics and materials have unique cleaning requirements. So, you need to choose a cleaning product that is compatible with your carpet's fabric. To begin with the research game, identify the material and fabric of your carpet. After that, look for a product that specializes in cleaning that specific fabric.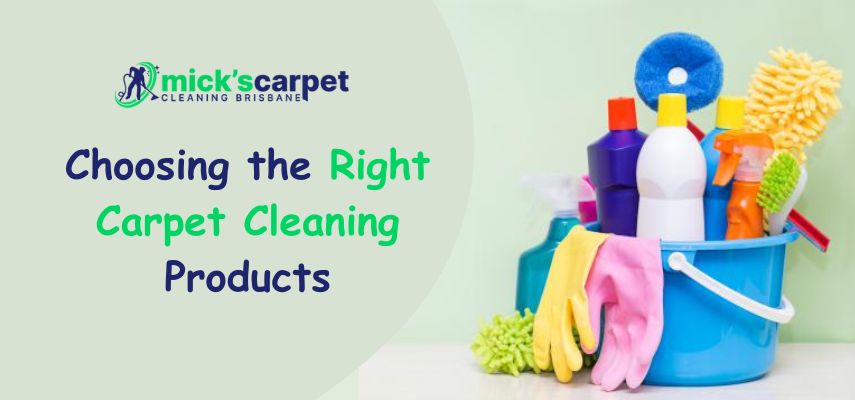 Simply put, if your carpet is made with delicate fabric like wool, silk, or cotton, choose a cleaning product with plant-based formulas and mild oxygen bleach. Using harsh chemicals can damage the delicate carpet fabric, leading to thinning, colour fading, and more. For nylon, polyester, or other durable and resilient fabrics, you may use some strong chemicals, if mentioned by the manufacturers in cleaning instructions. 
Focus On The Product Type
If you check the labeling of your carpets carefully, you can check the manufacturer's recommendation for cleaning agents. With their guidelines and suggestions, choosing the right carpet cleaning products becomes easier. 
By going through the professional recommendations, you can easily assess whether your carpet needs shampoo, powder cleaners, or foam cleaners. All these carpet cleaning products have different application processes as well.
While carpet shampoos and foam cleaners are designed for deep cleaning, carpet sprays are mainly for eliminating spots. For dry cleaning, powder cleaners are the best-fit choice! Also, some products are ready to use from the bottle, and others need to be diluted with water. Therefore, you need to be careful enough while using them.
Prioritize the Carpet's Stain Type 
The stains in your carpet also determine the type of cleaning agents it needs. In case your carpets have pet urine or vomit stains, you must choose an enzyme-based cleaner. Enzymes work in breaking down the proteins in the stains easily and remove them in a single go! On the other hand, if it has stubborn greasy stains, prefer using a cleaning product that has surfactants. Surfactants lift grease and oil out of carpets without affecting their quality. However, before using any kind of bleach or stain removal product, check their labels to ensure their compatibility with your carpet's fabric.  
Consider Product Ingredients
Chemicals not only damage the carpet fabrics but also leave a negative impact on indoor quality. So, always consider eco-friendly cleaning products that are toxin-free, bio-degradable, and safe for your kids and furry buddies. You can check the ingredient labels on the product. Buy a product that does not leave any mark or odour after the cleaning.
To play safe while you are on the mission of choosing the right carpet cleaning products, make sure to read the reviews of other users. Online ratings and reviews are unbeatable when it comes to getting insights into the reliability and effectiveness of a product. If the users have a positive say about your preferred cleaning products, you may go for it without a second thought!
Even if you buy a carpet cleaning product after doing a lot of research, undertaking the spot treatment is a must! You can check it on an inconspicuous part of your carpet.
What Happens When You Use Wrong Carpet Cleaning Products?
Using the incorrect cleaning products on your expensive carpet can cause permanent damage, compelling you to replace it. Here are a few ways wrong cleaning products can affect your carpet fabrics:
The build-up of residuals on your carpet attracts dirt and dust  
Discoloration and damage in carpet fibres 
Make a stain more difficult to pull out from the carpet 
Wrong products can result in moisture retention, leading to shrinking and wrapping
The use of incompatible products can release strong odours and trigger allergic reactions
When Do You Need Expert Help For Carpet Cleaning?
Choosing the right carpet cleaning products and conducting a DIY cleaning program is good. But there are times when you must seek professional assistance to clean your home's carpets, keeping them in good shape. Professionals have in-depth knowledge regarding different carpet fabrics and their suitable cleaning products and techniques. Thus, your expensive carpets will remain in safe hands. Here are a few situations when you must appoint professional carpet cleaners for the job:
Your carpet has more than 2-3 stains that are difficult to remove after repeated cleaning at home. 
The carpet fabric is susceptible, and you have no experience cleaning it. 
It has deep-seated dirt and allergens, including dust mites, pet dander, and pollen, that are not quickly coming off.
Final Thoughts
A spotless and squeaky clean carpet contributes to your home's beauty and sustains hygiene and cleanliness. Hopefully, this write-up has helped to explore the key factors that should influence your decision while determining the best cleaning products. If you take the time to consider your carpet's unique characteristics and cleaning goals, choosing the right carpet cleaning products would be no big deal!