The allergy season is just about to knock at your door. That means allergy-prone individuals are going to have a tough time dealing with bad headaches, runny nose, and terrible sneezes. If you think staying indoors can keep you free from allergens and pollutants, you cannot be more wrong! The carpets at your home or office act as a magnet, attracting allergens like dust mites, pet dander, mould, and so on! Unless you consider eliminating them, there is a high risk of experiencing severe allergic reactions, asthma attacks, colds, flu, etc. In order to create a healthier ambience inside your place, focusing on carpet cleaning for allergen reduction is crucial. In case you want to relish a safe and healthy lifestyle amid this allergy season, go through this guide to learn the best carpet cleaning and allergen removal practices!
What Makes Your Carpets a Breeding Ground for Allergens?
Before getting your hands on carpet cleaning for allergen reduction hacks, let's learn the facts that make your carpets an inevitable cause for spreading allergies. Carpets are a fabric product; they can be either natural or synthetic. A prime nature of fabrics is to accumulate debris, including dirt, dust, and seasonal allergen particles. Additionally, if a carpet stays wet for even a short period, the chances of mould and mildew growth increase. Not to mention, mould and mildew are directly connected to causing allergies.
The biggest problem with carpet fabrics is that no matter how often you dust and clean it, those allergens take time to come off. Worry not; check the below hacks to seamlessly remove allergens from your carpets, dodging all the health risks!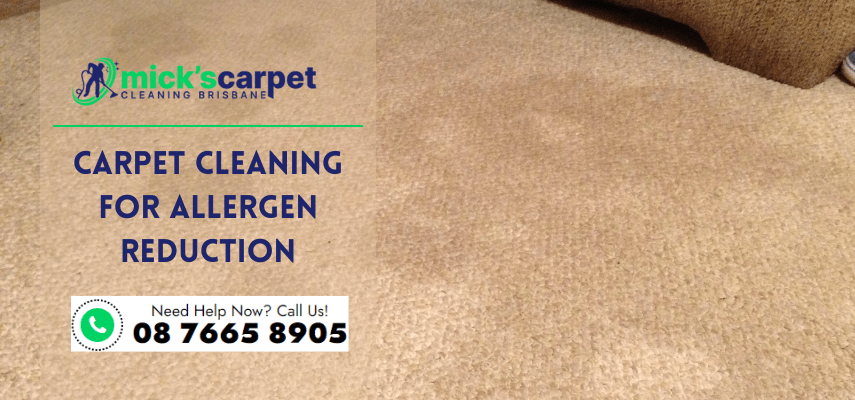 Hacks To Seamlessly Remove Allergens From Your Carpets
Dry Vacuum Your Carpets Daily
Vacuuming might not completely eliminate allergens from your carpets, but it can minimize them to a great extent. Try choosing a vacuum cleaner with high-powered HEPA filters for more effective results. Additionally, check whether your vacuum cleaner has sealed storage; otherwise, close storage so that the allergens do not spread accidentally.
After vacuuming the entire carpet, dispose of the allergens safely at the right place, and use a mask to stay safe. Moreover, consider cleaning your vacuum cleaner occasionally to ensure its efficient performance in removing allergens.
Wet Vacuum Your carpets Once a Month
Alongside dry vacuuming, steam carpet cleaning for allergen reduction is an excellent hack that you should definitely try at home. However, performing a thorough steam cleaning technique without expert assistance can be challenging. In that case, you can use wet vacuum cleaners as an alternative to hot water extraction or steam cleaning.
Wet vacuums can clean multiple messes, including pet hair, food or drink spills, etc. Just a simple reminder: refrain from using excessive water while using wet vacuum cleaners. Otherwise, it can negatively impact your carpet health, encouraging mould, mildew, and moss growth.
Use Non-Toxic & Low VOC Cleaning Agents
Sometimes, the cleaning products you use to remove allergens and other dirt particles from your carpets are themselves responsible for triggering allergic reactions. That is why you ought to be extremely careful while picking a cleaning agent.
Besides checking its efficiency and cleaning potential, make sure to go through the materials listed in the product labelling. Products with low volatile organic compounds (VOC) are best among all! These products are less likely to release harmful chemicals into the air, promoting better indoor air quality. Always look for carpet cleaning products labelled as asthma & allergy friendly for a safer outcome.
Clean Up Spills Immediately
Mould and mildew share deep connections with accidental drink spills. While you cannot guarantee zero chances of food spills, you can prevent mould growth by quickly cleaning the mess. Actually, mould and similar microorganisms multiply their numbers on damp spots, and spills result in moisture retention on carpets.
Therefore, to prevent moisture from seeping into the carpet fabric and welcoming allergens like mould and mildew, act quickly in cleaning it up and drying the area. Apart from allergens, food and drink spills can also lead to an intolerable foul odour. So, overlooking the spill cleanup process is not at all an option!
Do You Need Professional Carpet Cleaning for Allergen Reduction Periodically?
Even after applying all the DIY allergen removal hacks, there is still a need for professional cleanups. Sometimes, pet hair, pollens, spores, and other allergen particles are so deeply infiltrated in your carpet fabric that home-based cleaning hacks fail to show effective results. Conversely, professional cleanup sessions can easily uproot allergens and dust mites with specialized hot water extraction techniques. Hence, besides cleaning your carpets at home, ensure to book professional carpet cleaning services routinely.
Professional carpet cleaners have access to the latest carpet cleaning equipment and industry-grade, eco-friendly allergen removal products. Leveraging both, they ensure to elimination of the last trace of pollens, pet dander, and other allergens, ensuring a long-lasting result. By investing in professional carpet cleaning, you're creating a safer place for yourself and your loved ones.
Final Words
These are a few easy-to-ty DIY carpet cleaning for allergen reduction hacks to help you keep sound health. But as we all know prevention is better than cure adopting a few healthy habits like removing shoes outside before stepping on the carpet, using a HEPA filter vacuum cleaner, and quickly air-drying your carpets after wet cleaning can keep away allergens from your carpets, creating a healthier environment.