Breathe Life Back into Your Curtains with Our Brisbane Cleaning Team
Are your curtains looking dull and lifeless? Say goodbye to dingy drapes and hello to the rejuvenation experts at Mick's Carpet Cleaning in Brisbane. We are a well-known curtain cleaning company in Brisbane and our dedication speaks volumes about our commitment to excellence. We specialize in curtain cleaning, and our experience and expertise will leave you astounded.
We guarantee efficient and effective cleaning, always treating your curtains with the utmost care. Moreover, our cleaning methods and tips are second to none. Plus, we take pride in our environmentally-friendly approach, using non-toxic and eco-friendly cleaning products that ensure the well-being of your family and the planet. When it comes to curtain cleaning services in Brisbane and its suburbs, look no further. Mick's Carpet Cleaning is your top choice.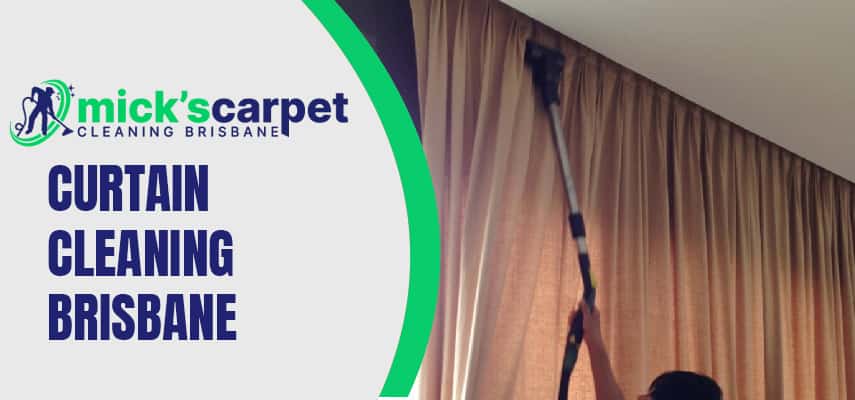 Our Curtain Cleaning Services
Advantages of Hiring Professional Curtain Cleaning Services
Professional curtain cleaning services offer many benefits. Hiring a professional cleaner can ensure that your curtains are cleaned effectively and efficiently, leaving them fresh and looking new. This can help in maintaining the overall health and appearance of your home.
Effective Stain Removal: Professional cleaners have the expertise and specialized equipment to effectively remove even the toughest stains from your curtains, restoring them to their original condition.
Prolongs Curtain Lifespan: Regular professional cleaning not only makes your curtains look better but also extends their lifespan by preventing the buildup of dust, dirt, and allergens that can weaken the fabric over time.
Health Benefits: Thorough curtain cleaning removes allergens like dust mites and pollen, which can contribute to allergies and respiratory issues. Cleaner curtains mean a healthier indoor environment for you and your family.
Preserves Appearance: Professional cleaning preserves the color, texture, and overall appearance of your curtains. This means your home maintains its aesthetic appeal, and you won't have to invest in new curtains as frequently.
Convenience: Hiring experts to clean your curtains saves you time and effort. They handle the entire process, from taking down the curtains to rehanging them, so you can enjoy freshly cleaned curtains without the hassle.
Services you can expect from us for Curtains and Blinds
Curtain Dry Cleaning
The curtains are treated with the dry cleaning solvent and agitated to remove dirt and stains. After washing, the clean curtains are hung to dry and then re-installed. Dry cleaning is a good option for curtains made of delicate fabrics or those with intricate designs that may be damaged by water. It is also a good option for curtains that are too large to be washed in a home washing machine. 
Curtain Steam Cleaning
A curtain steam cleaning service can be expected to be provided as well. It is a process of cleaning curtains using hot water and steam. The curtains are first vacuumed to remove any loose dirt or debris. Then, they are treated with a cleaning solution and agitated to loosen any dirt and stains. The curtains are then steamed with hot water to remove dirt, stains and bacteria.
Curtain Mould Removal
Curtain mould removal is the process of removing mould that has grown on curtains. Mold can grow on curtains in damp or humid environments, and it can be a health hazard if not removed properly. We offer appropriate services to properly remove mould that could be a health hazard and ensure that the mould doesn't reappear again.
Curtain Stain Removal
We also offer services towards specific stain removal, there are some stains that are more stubborn than others that can't be removed by cleaning curtains at home. We use a variety of methods to remove the stains but the most common one used is spot cleaning. This involves treating the stained area with a cleaning solution and then agitating it to break up the stain. The solution is then rinsed off and the curtains are hung to dry. Some common cleaning solutions that can be used for spot cleaning include dish soap and water, white vinegar, or a commercial spot cleaner.
Rehanging Your Curtains
Curtain rehanging is the process of re-installing curtains after they have been washed or replaced. This process involves taking down the existing curtains and then hanging new or freshly cleaned curtains in their place. It is a great way to freshen up the look of a room and can be done as part of a larger home renovation or redecoration project.
Anti-allergen Treatment
Curtain anti-allergen treatment is a process that helps to remove or reduce allergens from curtains. It can be done by our professional cleaners with specialized equipment and solutions. Regular cleaning and maintenance are necessary to keep allergies under control and to ensure the curtains remain fresh and hygienic.
Our Professional Brisbane Curtain Cleaning Process
Assessment: The first step involves assessing the type of curtain fabric and any specific stains or problem areas. This assessment helps determine the appropriate cleaning method.
Dust Removal: Before any wet cleaning, curtains are thoroughly dusted to remove loose dirt, dust, and allergens. This step is crucial to prevent dirt from becoming mud during the wet cleaning process.
Cleaning Method: Depending on the fabric and condition, curtains are either dry cleaned or wet cleaned. Dry cleaning uses solvent-based solutions, while wet cleaning uses water-based methods. Both processes effectively remove stains and refresh the fabric.
Stain Treatment: Stubborn stains or spots are individually treated with specialized stain removers to ensure they are completely removed without damaging the fabric.
Drying and Finishing: After cleaning, curtains are carefully dried to prevent shrinking or damage. Once dry, they are ironed or steamed to restore their original appearance, and any necessary repairs, such as re-hemming, are performed before rehanging.
We Clean All Drapes, Curtains And Blinds 
Drapes: Drapes are typically made from heavy fabrics such as silk, velvet, or brocade, and are often lined with a light-blocking or insulating material. Due to their heavy weight, drapes are not typically machine-washed and require special care to maintain their appearance and prolong their life. We offer two main methods for drapery cleaning which are dry cleaning and professional steam cleaning, which use different techniques, equipment, and solutions to remove dirt and stains from drapes, without causing damage.
Curtains: We offer a precise and efficient way of washing curtains that use different methods and techniques depending on the type of washing the curtain requires. Different types of curtains such as Cased heading curtains, Pencil pleat curtains, Double box pleat curtains, Linen curtains, Sheer curtains, Lace curtains, Acrylic curtains, and Eyelet curtains can be expected to be washed with adequate care no matter the type of curtains we receive.
Blinds: Our blinds cleaning services typically include the cleaning and maintenance of all types of window blinds, including Vertical blinds, Roman blinds, Roller blinds, and Pleated blinds. The services can be performed on-site at the customer's location or the blinds can be removed and cleaned at the cleaning facility. Blind cleaning services also include repair and maintenance services such as re-stringing, re-taping, and replacing broken slats.
Experience the Benefits of Professional Curtain Cleaning in Brisbane with Us
If you're looking for a professional and reliable Curtain Cleaning Brisbane team, look no further! We are the company to choose. Here are a few reasons why:
We have years of experience in cleaning and dusting curtains and draperies of all types and fabrics. Our professional cleaners are well-trained and know how to handle different fabrics and stains, ensuring that your curtains come out looking like new.
We use state-of-the-art equipment and cleaning solutions to ensure that your curtains are thoroughly cleaned, with no residue or shrinkage left behind.
We offer on-site and off-site curtain cleaning services to fit your schedule and needs. We can remove your curtains for you and bring them back clean and fresh, or we can come to your location and clean them in place.
We provide competitive pricing for our cleaning services, and we'll work with you to create a customized cleaning plan that fits your budget.
We stand behind our work and want you to be completely satisfied with the results. If you're not happy with the cleaning of your curtains, let us know and we'll make it right.
Choose us for your Curtain Cleaning Brisbane needs and experience the difference that professional cleaning can make in your home or office.
Choose Your Convenience: Onsite and Offsite Curtain Cleaning Services in Brisbane
We understand that convenience matters when it comes to curtain cleaning. Our dedicated team of professional cleaners in Brisbane, specializing in both off-site and on-site curtain cleaning services across the city and its suburbs. We strive to provide our customers with quick and reliable service.
Our Curtain Cleaning Brisbane team consists of highly skilled and experienced cleaners who have the expertise to clean and rehang all types of curtains, drapes and blinds, regardless of their fabric or condition. So you can choose and contact us for your curtain cleaning convenience in Brisbane.
FAQs
How often should I have my curtains cleaned?
It is recommended to have curtains cleaned every 6 to 12 months, depending on the amount of use and exposure to allergens and dust. However, if you notice visible stains or odours, it may be necessary to have them cleaned more frequently.
Can all types of curtains be cleaned?
Yes, most types of curtains can be cleaned, including cotton, silk, linen, and synthetic fabrics. However, it is important to check the care label on your curtains for any specific cleaning instructions and to test a small area of the fabric before cleaning the entire curtain.
What methods are used for cleaning curtains?
Common methods for cleaning curtains include steam cleaning, dry cleaning, and hand washing. The method used will depend on the type of fabric and the level of soiling.
Can curtains be cleaned in place, or do they need to be removed?
Curtains can be cleaned in place or removed for cleaning, depending on the method used. Steam cleaning, for example, can be done on-site, while dry cleaning may require the curtains to be taken down and brought to a dry cleaning facility.