Customized Carpet Odor Neutralization Services
We have customized methods and services for neutralizing the unpleasant odor from your carpet all of which are categorized under odour neutralization services. This service helps in enhancing indoor air quality and allergen reduction. Oftentimes, the unpleasant odours you smell from the carpet are because mould and bacteria grow on it which in turn triggers respiratory problems. Therefore, our Brisbane Carpet Cleaning Team use chemical-free and stainless neutralizers to complete the carpet odour neutralization job. So, get your indoors and the living environment enhanced with an odour neutralization service.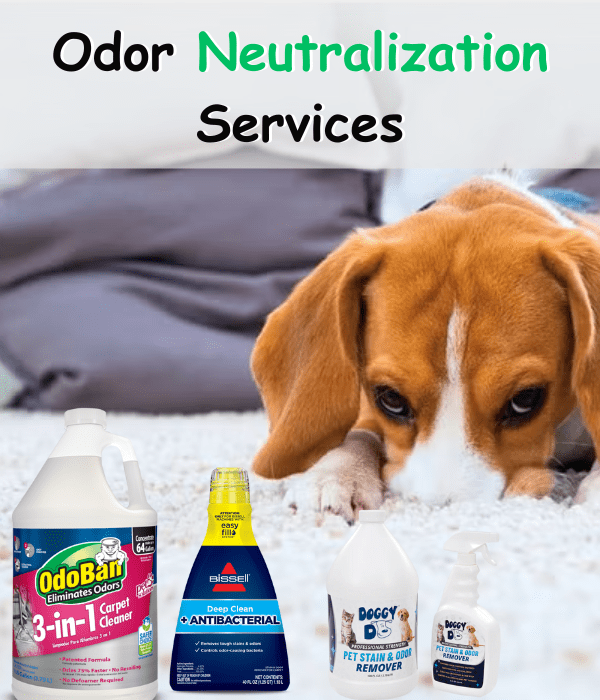 When Does A Carpet Need Odour and Neutralization?
Water Damage: Water damage like flooding and leaks leads to mould growth and mouldy odours.
Pet Odours: The presence of pets is a cause for persistent odours on the carpet and this is a challenging task if you want to try a DIY trick for odour removal.
Visible Mildew: Musty odours coming from your carpet is a sign of mildew growth on the carpet.
Lung Infections: Occupants experience repeated coughing, sneezing, and sore throat, leading to lung infections.
Stains & Spills: A major contributor to the emission of unpleasant odours by carpet is stains and spills.
Numerous Benefits Of Obtaining Our Odour Neutralization Services
Healthier Indoor Air: Odour neutralization services help in the permanent removal of airborne pollutants, making your indoors a healthier environment to live in. Therefore, you, your kids, and your pets get to breathe safe and fresh air.
Enhance Respiratory Health: As odour neutralization eliminates all the associated odour allergens, you can notice an improvement in respiratory health. Thus, occupants in residential and commercial properties with carpets are free from asthma and allergies.
Stain Removal: A common reason for the rise in odours is persistent stains on the carpet and thus experts act on them too. So, odour-neutralizing treatment is done to address the stains on the carpet, resulting in a well-maintained belonging.
Prevents Bacterial Growth: A direct solution for permanent odour removal is inhibiting the growth of bacteria, preventing further development. Hence, this promotes a healthier and pleasant-smelling living space.
Eliminates Unpleasant Odours: Unpleasant odours are a cause of various contributions like pets, kids, stains, mould, mildew or spills. However, odour neutraliser gets rid of these which in turn results in a pleasant living area.
What Can You Expect From Our Odour Neutralization?
Our odour neutralization team has already set its priority when it comes to the utilization of cleaning solutions and tools to implement a method. We have a different set of tools for odour neutralization like high-pressure sprayers, steam cleaners, ozone generators and hot water extraction equipment. In the same manner, we also have a list of cleaning solutions varying from enzymatic cleaners and bacterial digesters to ozone-absorbing sprays.
As we have all the right cleaning solutions and tools at hand, we start the odour neutralization by identifying the source of odours. Then, we do the pre-cleaning with a vacuum cleaner and loosen the debris particles to remove them from the carpet. From here we begin the treatment of odour neutralizing by involving the use of enzymes in the affected areas. Later, we agitate the carpet using a brush and give it some time to dwell on the carpet and neutralize the odours. The final step is to dry the carpet to prevent mould growth.
Get In Touch With Us For Brisbane Odor Neutralization Services
If you do not want to hassle yourself with odour neutralization for your carpet with DIY tricks, contact us for emergency or normal aid. You will be impressed to know that we have the most advanced solutions to neutralize and eliminate the odours from your carpet. We are awaiting your call and bookings with us!