Carpet Repair Sunshine Coast Services With Expertise and Reliability
We at Micks Carpet Cleaning specialise in repairing different kinds of carpets and their damage problems. Our expert Sunshine Coast carpet repair have specialised knowledge to offer services in all specific locations of the Sunshine Coast. Our clients can rely on a committed staff that possesses the expertise and experience to handle a range of carpet problems. We are offering tailored and efficient carpet repair solutions for your carpet maintenance requirements.
Your carpets can last longer with routine upkeep and repairs. Fixing minor flaws like snags or stains contributes to keeping the carpet's overall visual attractiveness. This may be especially crucial if the carpet blends in well with the room's interior decor. And, there will be no need to buy or replace the old carpet. Damaged carpets that have loose seams might be dangerous for trips and falls. Timely repairs help create a safer atmosphere by lowering the possibility of mishaps that can save carpet replacement costs.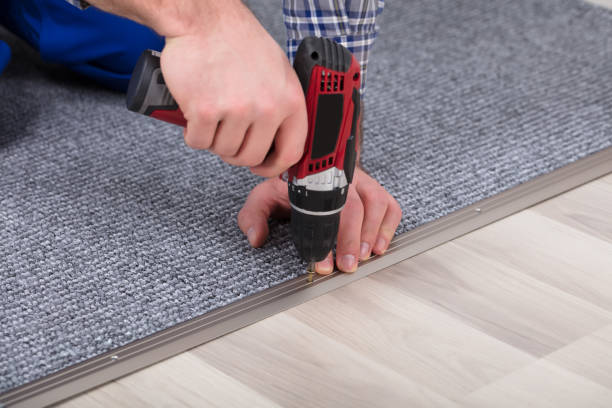 Hiring our reputable carpet cleaning company in the Sunshine Coast ensures a complete inspection of the damage. We specialise in patching, re-stretching, or other repair procedures, and offer affordable solutions customised to your particular circumstance.
Our Experts Solve All Carpet Repair Issues
Our team's adaptability is appreciable in handling a range of carpet repair issues.
Burnt Carpet Spot: Our experts preserve the look of burned carpets by repairing them with expert carpet burn repair techniques. Carpet patching, cutting away the damaged part, and flawlessly integrating a substitute section may all be necessary to do this.
Carpet Ripples: We are experts in restoring a smooth and level surface by removing wrinkles and ripples. To ensure that your carpet lies level & has a nice appearance, our professionals use carpet wrinkle removal methods including re-stretching. This prevents risks in addition to improving the look.
Furniture Impressions: Restoring the impacted areas by filling in the dents or impressions made by large furniture is also our service.
Frictional Damages: We also increase the life of the carpet by filling in thinned or worn-out parts brought on by heavy use. Our carpet damage repair is always easy and simple.
Accidental Tearing: We repair tears or damages brought on by mishaps while maintaining the carpet's structural integrity.
So, call us to book our professionals for Carpet Repair on the Sunshine Coast if you face any carpet-related issues. 
Carpet Repair Methods With Profesional Techniques –Hire For Your Carpet
The completeness of the carpet restoration techniques, especially those catered to Sunshine Coast requirements, is highlighted here. Every point outlines a distinct repair technique:
Carpet Patching: Our carpet patching involves using favourable or matching patches to replace damaged areas.
Stretching and Tightening: By stretching the carpet, we remove the creases and ripples from the carpet. With our professional carpet restretching, we revive the carpet and lessen the noticeable effect of heavy things.
Carpet Seam Repair: Rejoining and strengthening seams to create a seamless look is known as carpet seam repair. And, we do it professionally using our best strategies.
Carpet Pad Fixing: For the best support of your carpet, we replace or repair damaged carpet padding. For more accurate results, also you can get carpet fixing and mending.
Pet Damage Repair: Repairing pet damage includes cleaning up stains, scratches, and chewed areas. For small holes, we provide carpet hole patching.
Carpet Burn Fixing: Fixing burns without replacing them entirely is also our specialty. We fix burns and repair damages using the best carpet material.
Emergency Carpet Repairs in Sunshine Coast – Get Services For Your Situations
With our emergency carpet repair Sunshine Coast, we provide prompt help. We precisely help to meet the demands of our customers who need to repair their carpets. For the availability of 24*7 hours emergency services, we are very responsive and locally relevant. Our clients may depend on our committed staff to provide fast and effective solutions to carpet repair emergencies. We are available in neighbouring areas of the Sunshine Coast to offer the services.
Effective Carpet Repair Process – The Best Way To Repair The Carpet
The general steps we prefer to take in the carpet repair procedure are described:
Evaluation: Our team for Carpet Repair Sunshine Coast determines the kind and amount of the damage.
Quotation: Based on the evaluation, we provide a thorough estimate of the cost of repairs. With the affordable carpet repair cost, we make our quotes and advice.
Repair Strategy: We create a customised strategy to deal with certain problems of carpet. We offer carpet stretching service and do carpet patch repair as per customer demand. 
Application of Method: We use the proper strategies and tactics to carry out the repair plan. We apply our methods and techniques to make your carpet more valuable.
Check for Quality: Our experts make sure the carpet has been restored to its best state by doing a complete inspection.
Customer feedback: We prefer to make sure the client is happy with the outcome by including them in the process from the beginning to the end.
Why Select Our Company For Carpet Repair Sunshine Coast
Carpet Repairs Done Same Day: We promise to provide same-day carpet repairs on the Sunshine Coast. So, you will not have to wait around for help. We will give quicker carpet restoration and less disturbance to your daily schedule.
Every Carpet Fix: We provide a wide range of carpet repair needs with our complete service. Our knowledgeable professionals can address a wide range of problems.
24*7 Hours Accessible: Emergencies can strike at any time. You can trust us to take care of your urgent carpet repair requirements because we are available around the clock. We give you the assurance that help is only a phone call away, day or night.
Affordable Carpet Restorations: We recognise the significance of cost-effectiveness. Our cost-effective method ensures that you will have excellent carpet repairs without going over budget. Our services are available at reasonable carpet repair prices.
Experts in Local Carpet Repair: The members of our team are local specialists who are aware of the particular difficulties and preferences related to carpets. Being local carpet repairs, we meet the unique demands of our local consumers and have a faster reaction time.
Revitalise Your Carpets Today – Call Our Sunshine Coast Experts!
If you are in search of carpet repair near me, take advantage of the best carpet repair Sunshine Coast by just calling us. Our neighbourhood specialists provide same-day repairs, reasonably priced fixes, and round-the-clock service. Select us for thorough, expert carpet repairs that are customised to your carpet.